Model NO.:
sintered NdFeB
Quality System:
ISO/Ts16949:2009; ISO9001:2000; QS-9000
Certificate:
SGS, RoHS, Reach
Working Temperature:
80 to 230
Factory:
Over 20 Years Experiences
Welcome to Jiangmen Magsource New Material Co.,LTD.

Specialized in producing magnet materials over 20years
Aims to be the best Neodymium Magnet supplier in China
Offer Super Strong NdFeB Magnet, Professional Service.
NdFeB magnets -The Strongest Permanent Magnets Today
NdFeB(Neodymium-Iron-Boron) magnet is used most popular by people in industry and our daily life, because it has superior magnetic properties than other kind of magnets.
 


About NdFeB irregular shape magnet:


Material: Sintered NdFeB Magnet/Sintered Neodymium Magnet 
Shape:Â Â irregular shape
Size:  As customer's design
Grade: N30-N52, M, H, SH, EH, UHÂ 
Magnetic properties: Hcj, Hcb, BH, Br, BHmax, working temperature   
Coating: Ni/Nickel, NicuNi, Black nickel, Gold, Silver, Chrome, Parylene, Zn/Zinc, Color Zinc, Tin, Cooper, Epoxy etc 
Application: widely used in sensor, speakers, reed switches, motor, rotor, wind turbines/generators, AC/DC motors, drive motors, servo motors etc  
Magnetization directions: by Axial or by radial



We customize neodymium cylinder magnet according to customers' requirements, drawing or actual samples, magnet grade N, M, H, SH, UH, EH, AH.



1. Specifications of Sintered Neodymium Magnet
  
| | |
| --- | --- |
| Place of Origin | Guangdong, China(Mainland) |
| Magnet Type | Sintered NeFeB /Â rare earth /Â Permanent |
| Composite | Neodymium-Iron-Boron |
| Grade | N35-N54( M, H, SH, UH, EH, AH series ) |
| Working Temperature | The Max. temp. is up to 80 /Â 100 /120 /150 /Â 230 celsius under different grade. |
| Tolerance | +/-0.03 to +/-0.15 |
| Shape of Magnet | Disc, Cylinder, Block, Ring, Sphere(ball), Arc Segment(Tile) and more custom shapes |
| Size | various sizes custom-make welcome |
| Coating | Ni, Zn, NiCuNi, gold, silver, copper, epoxy, etc. |
| Magnetization Direction | Axially Magnetized, Radially Magnetized(Diametrically), Multi-poles Magnetized or other customized |
| Quality System/Certificate | ISO/TS16949:2009; ISO9001:2000; QS-9000, SGS,RoHS,REACH |
| Application | Industrial Magnet, Toy Magnet, Health Magnet and more  |
| Packaging | Antimagnetic Packaging /Â Neutral Packing /Â Custom-make welcome |
| Shipping Method | by see, by air or by int'l express |
| Lead Time | 10~25days |
2. Magnet Display
Neodymium-Iron-Boron (NdFeB) magnets are composed of neodymium, iron, boron and a few transition metals. These kind of permanent magnets are extremely strong and can be producted in different shapes and sizes (ie. arcs, blocks, discs, rings).
It has higher unit magnetic properties than other magnet and assure you of smaller size and lighter weight in designing devices.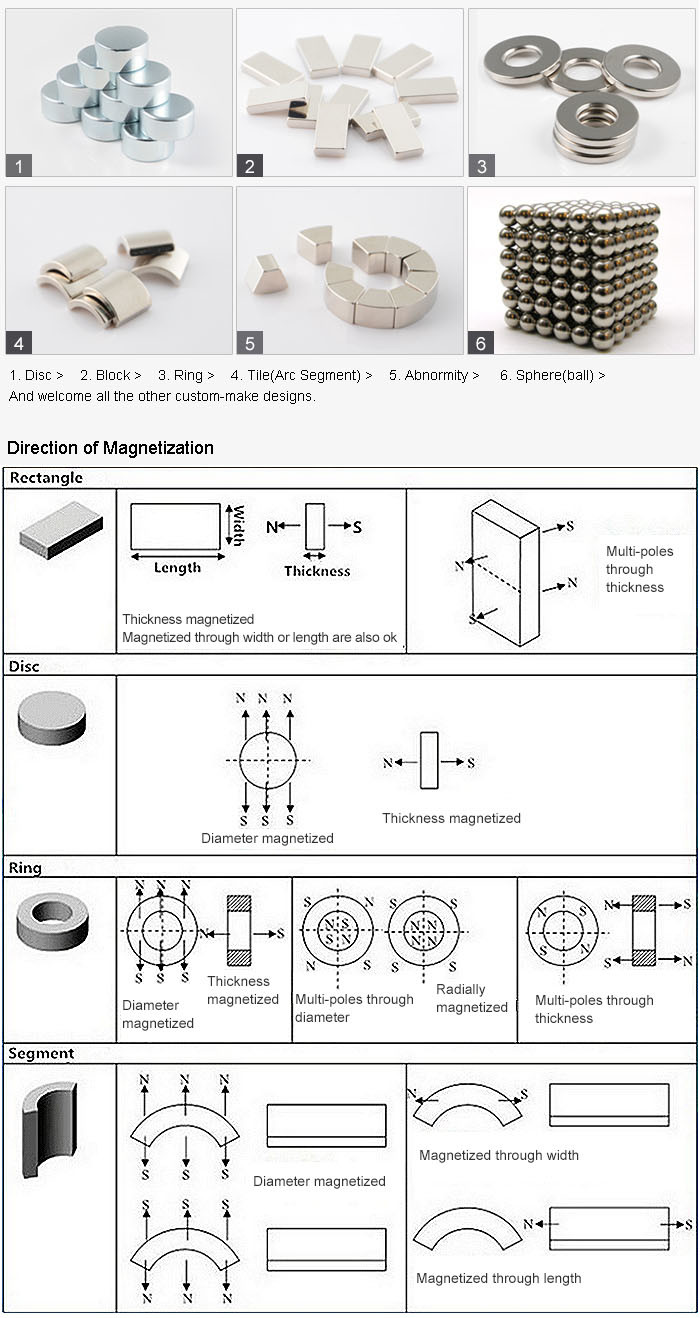 3. Applications of Sintered NdFeB Magnets
The permanent magnets, which are called the next centurial magnets, are used in a wide range of industries including computer, automobile, electric machinary, electro-sound devices, automatic control, magnetic force mechanism, microwave commnication, petrochemical industry, medical apparatus and equipment. The magnets are the ideal materials for the subminiature magnetic devices with high function.NdFeB magnets is especially suitable for developing those new products demanding high quality, small volume and light weight.
| | |
| --- | --- |
|  · Automotive Starters                   |  · Microphone Assemblies |
|  · Computer Rigid Disc Drives |  · Particle Accelerators |
|  · DC Motors |  · Printers |
|  · Headphone |  · Relays |
|  · Halbach Arrays |  · Servo Motors |
|  · Linear Actuators |  · Stepper Motors |
|  · Linear Motors |  · Switches |
|  · Loud Speakers |  · Undulators |
|  · Magnetic Bearings |  · Vacuum Deposition  |
|  · Magnetic Couplings  |  · Voice Coil Motors (VCM) |
|  · Magnetic Separators |  · Wind Turbines  |
4. Technical Data of Sintered NdFeB Magnets
 
MAGNETIC AND PHYSICAL CHARACTERISTICS
     
Series

Grade

Remanence 

Coercive Force 

Intrinsic Coercive force 

Max. Energy Product 

Max. Working Temp.

Br

Hcb

Hci

(BH) max

L/D=0.7

T

kGs

KA/m

KOe

KA/m

KOe

KJ/m

3

MGOe

ºC

°F

N

N35

1.17-1.24

11.7-12.4

≥860

≥10.8

≥955

≥12

263-295

33-37

80

176

N38

1.22-1.30

12.2-13.0

≥860

≥10.8

≥955

≥12

287-318

36-40

80

176

N40

1.26-1.32

12.6-13.2

≥860

≥10.8

≥955

≥12

302-334

38-42

80

176

N42

1.29-1.35

12.9-13.5

≥860

≥10.8

≥955

≥12

318-350

40-44

80

176

N45

1.32-1.38

13.2-13.8

≥860

≥10.8

≥955

≥12

334-366

42-46

80

176

N48

1.37-1.43

13.7-14.3

≥836

≥10.5

≥876

≥11

358-390

45-49

80

176

N50

1.40-1.45

14.0-14.5

≥836

≥10.5

≥876

≥11

374-406

47-51

80

176

N52

1.42-1.48

14.2-14.8

≥836

≥10.5

≥876

≥11

390-422

49-53

80

176

N54

1.45-1.51

14.5-15.1

≥836

≥10.5

≥876

≥11

398-438

50-55

80

176

M

N35M

1.17-1.24

11.7-12.4

≥860

≥10.8

≥1114

≥14

263-295

33-37

100

212

N38M

1.22-1.30

12.2-13.0

≥915

≥11.5

≥1114

≥14

287-318

36-40

100

212

N40M

1.26-1.32

12.6-13.2

≥939

≥11.8

≥1114

≥14

302-334

38-42

100

212

N42M

1.29-1.35

12.9-13.5

≥955

≥12.0

≥1114

≥14

318-350

40-44

100

212

N45M

1.32-1.38

13.2-13.8

≥987

≥12.4

≥1114

≥14

334-366

42-46

100

212

N48M

1.37-1.43

13.7-14.3

≥1019

≥12.8

≥1114

≥14

358-390

45-49

100

212

N50M

1.40-1.45

14.0-14.5

≥1043

≥13.1

≥1114

≥14

374-406

47-51

100

212

N52M

1.42-1.48

14.2-14.8

≥1059

≥13.3

≥1114

≥14

390-422

49-53

100

212

H

N35H

1.17-1.24

11.7-12.4

≥876

≥11

≥1350

≥17

263-295

33-37

120

248

N38H

1.22-1.30

12.2-13.0

≥915

≥11.5

≥1350

≥17

287-318

36-40

120

248

N40H

1.26-1.32

12.6-13.2

≥939

≥11.8

≥1350

≥17

302-334

38-42

120

248

N42H

1.29-1.35

12.9-13.5

≥963

≥12.1

≥1350

≥17

318-350

40-44

120

248

N45H

1.31-1.37

13.1-13.7

≥979

≥12.3

≥1350

≥17

335-366

42-46

120

248

N48H

1.37-1.43

13.7-14.3

≥1011

≥12.7

≥1274

≥16

358-390

45-49

120

248

N50H

1.40-1.45

14.0-14.5

≥1027

≥12.9

≥1274

≥16

374-406

47-51

120

248

SH

N33SH

1.14-1.21

11.4-12.1

≥852

≥10.7

≥1592

≥20

247-279

31-35

150

302

N35SH

1.17-1.24

11.7-12.4

≥876

≥11

≥1592

≥20

263-295

33-37

150

302

N38SH

1.22-1.29

12.2-12.9

≥915

≥11.5

≥1592

≥20

287-318

36-40

150

302

N40SH

1.26-1.32

12.6-13.2

≥939

≥11.8

≥1592

≥20

302-334

38-42

150

302

N42SH

1.29-1.35

12.9-13.5

≥963

≥12.1

≥1592

≥20

318-350

40-44

150

302

N45SH

1.32-1.38

13.2-13.8

≥994

≥12.5

≥1592

≥20

335-366

42-46

150

302

UH

N30UH

1.08-1.16

10.8-11.6

≥812

≥10.2

≥1990

≥25

223-255

28-32

180

356

N33UH

1.14-1.21

11.4-12.1

≥852

≥10.7

≥1990

≥25

247-279

31-35

180

356

N35UH

1.17-1.24

11.7-12.4

≥876

≥11

≥1990

≥25

263-295

33-37

180