Composite:
Rare Earth Neodymium Synchronous Motor Magnet
Size:
Customized Synchronous Motor Magnet
Other Coating:
Zn, Cu, Au, Sliver, Epoxy, Ni-Cu-Ni
Tolerance:
+/-0.05 Synchronous Motor Magnet
Delivery Detail:
10~20 Days After Order Confirmed
Other Grade:
N35m--N50m,N35h--N48h,N35sh--N45sh, N28uh--N42uh
Trademark:
SDM Neodymium Synchronous Motor Magnet
Transport Package:
Sea Pallet / Air Carton / Express Packaging
Specification:
MMPA Neodymium Synchronous Motor Magnet
14 Years Experienced ISO/TS 16949 Certificated Neodymium Synchronous Motor Magnet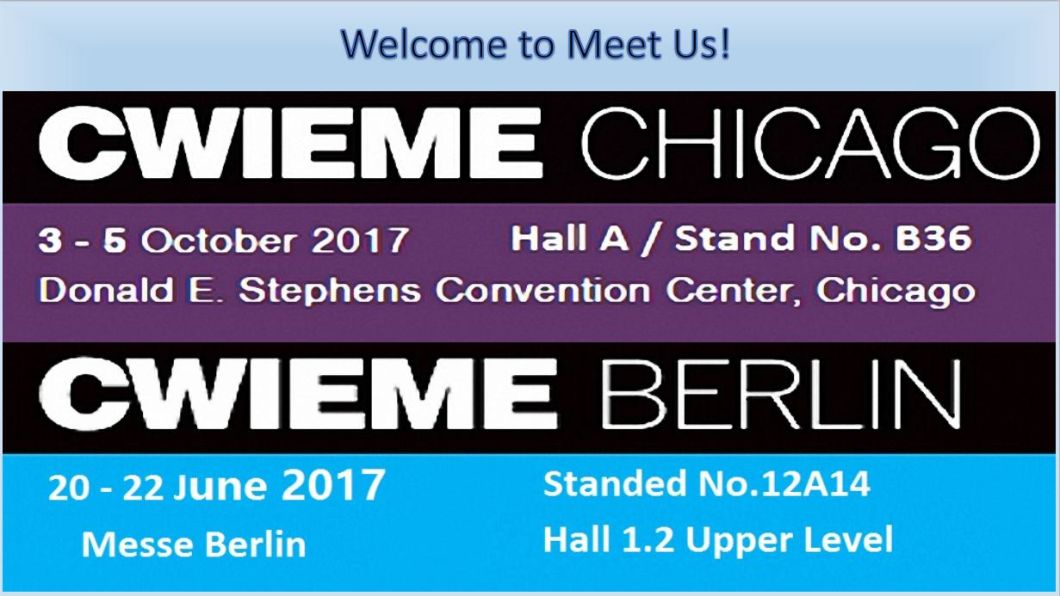 SDM Advantages
• Strategic cooperation with China's No.1 rare earth miner CHINALCO, which enables us strong and safe backup for rare earth raw materials cost stability, 3 x -3% annual price down guaranteed.
• ISO/TS 16949, VDA 6.3, ISO9001, ISO14001 certified company, RoHS, REACH, SGS, FDA complied product.
• 0 PPM performance for General Motor's OEM since 2010, remarkable customers such as SIEMENS, BMW, REGAL BELOIT, NIDEC, ELECTROLUX, S&T Motiv.
• Over 100 million neodymium magnets delivered to American, European, Asian  and  African countries.
• One stop service from R&D to mass production.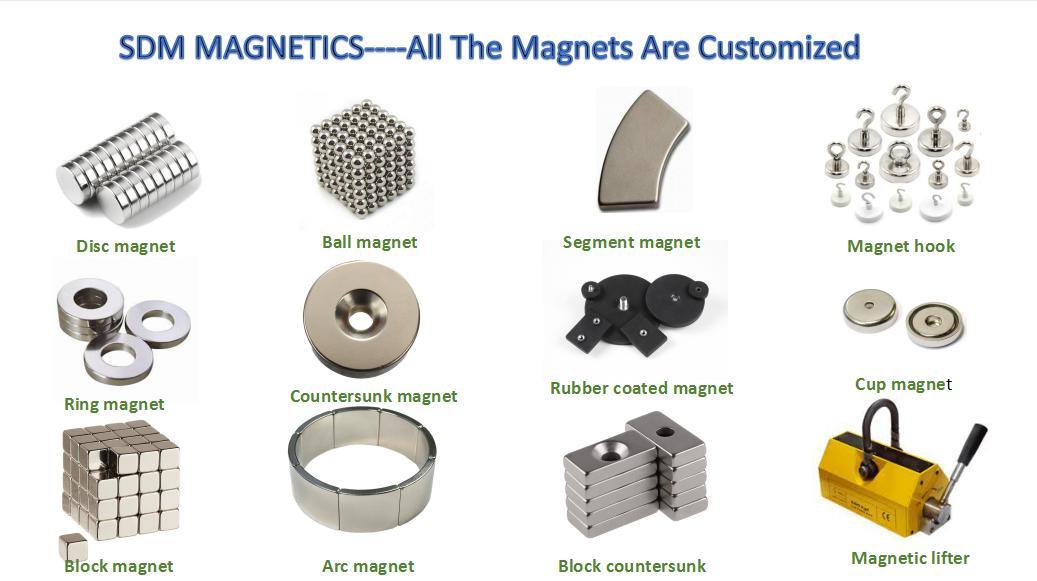 Quality Assurance
 • ISO9001, ISO14001, ISO/TS16949, TUV, SGS, RoHS for Neodymium Synchronous Motor Magnet.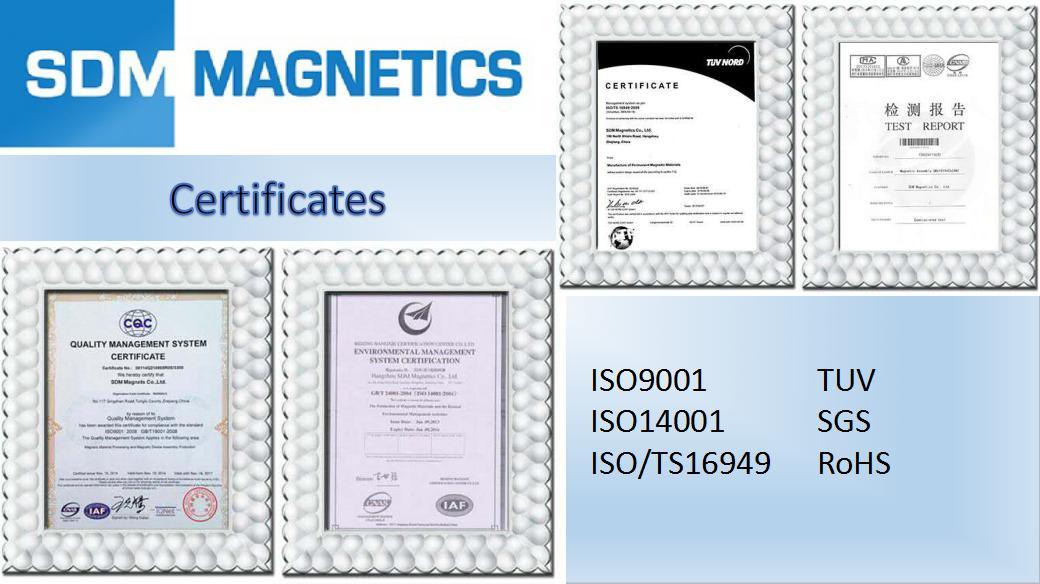 Customized Neodymium Magnets and Neodymium Magnetic Assemblies with fast delivery time of 7-15 days.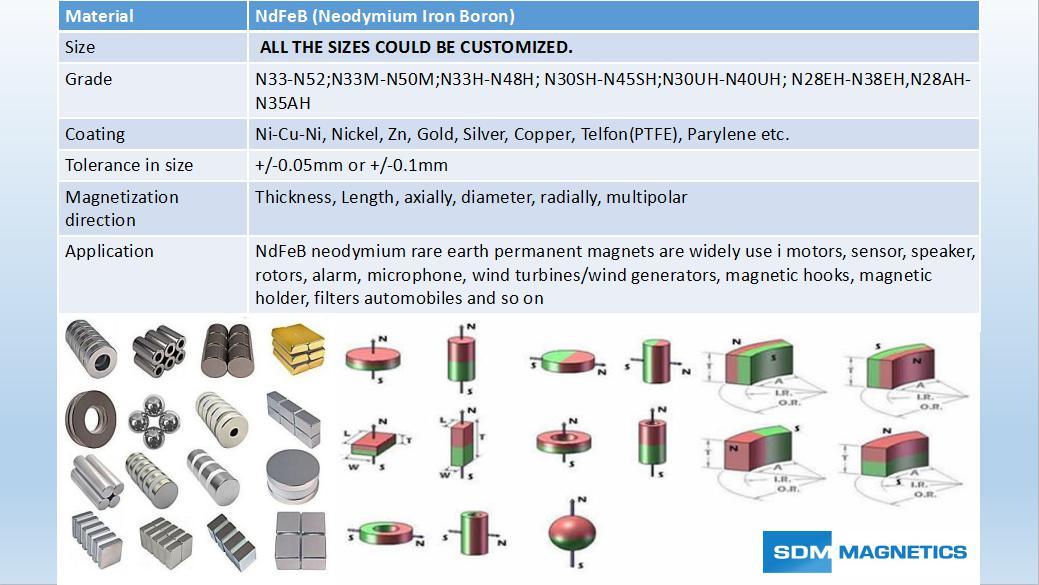 SDM Reliability & Workshop
 • Demagnetization Curves & Outgoing Inspection Report for each shipment.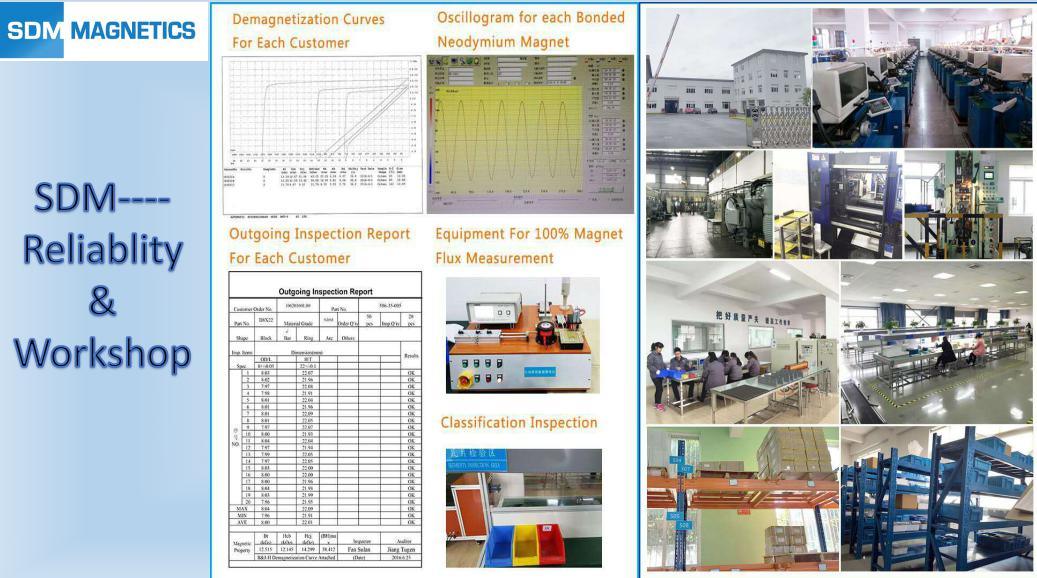 Standard Packaging
•  Vacuum packaging for all Neodymium magnets and Neodymium magetic assemblies.
• Shielding box and wooden box to protect the Neodymium magnets during shipping.
Shipping Methods 
• Contract price with FedEx, DHL, UPS and TNT to minimum your shipping cost.
• Experienced shipping forwarder for Ocean and Air shipments.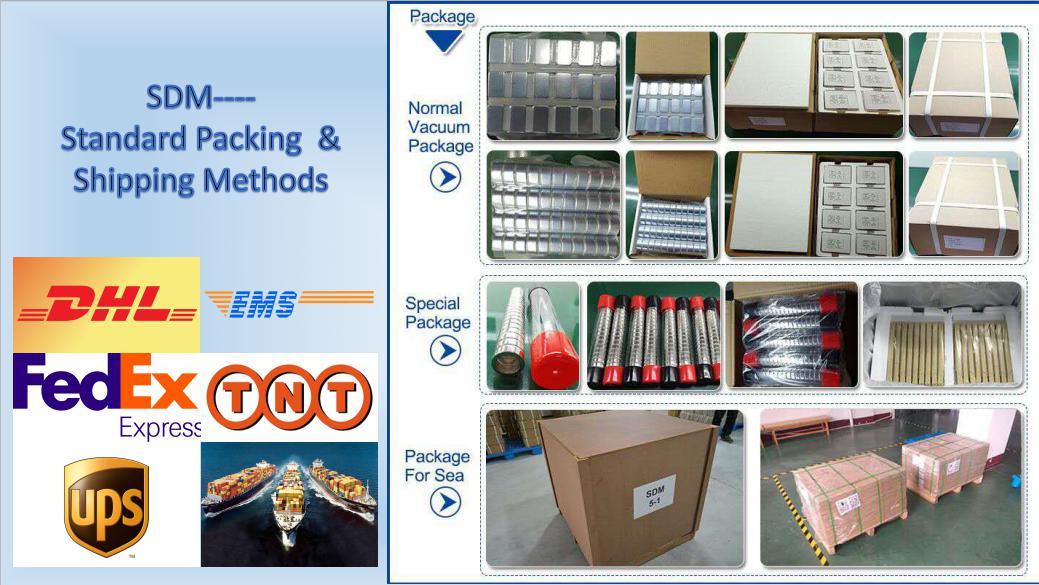 Exhibitions
• CWIEME BERLIN every year, Germany.
• HANNOVER MESSE every year, Germany.
• CWIEME CHICAGO every year, USA.
You are more than welcome to visit us at above exhibitions every year, we look forward to a face to face meeting with you.
 
Flexible Payment
We accept T/T, Paypal, Western Union, ESCROW and L/C.
 
Company Information
SDM Magnetics Co., Ltd. is a leading Chinese manufacturer of high performance permanent magnets and magnetic assemblies with ISO9001:2008, ISO/TS 16949 and ISO14001 certificates. SDM serves a variety of markets from consumer electronics, industrial automation, automotive, green energy, household appliances, medical, aerospace and telecommunications. SDM's magnets are used in motors, speakers, generators, sensors, compressors, MRI, magnetic chucks and separators etc.
To meet the more and more demanding markets, SDM has been concentrating on manufacturing technologies for quality stability and cost reduction. Since 2010 the company has been supplying magnets to General Motors' OEM with 0 PPM. With Dysprosium infiltration technology, we are able to offer competitive prices for high grade Neodymium magnets. The company has also built up a strategic cooperation with China's No.1 rare earth miner CHINALCO, which gives us strong and safe backup for rare earth raw materials.
SDM Magnetics now manufactures a comprehensive range of magnetic products including:
·Neodymium Magnet
·Injection Molding Magnets
·Samarium Cobalt
·AlNiCo (Aluminum Nickel Cobalt)
·Magnetic Assemblies
Over the last ten years SDM export 85% of its products to American, European, Asian and African countries.With such wide range of magnetic material options, our professional technicians are available to help solve your magnetic needs and choose the most cost effective material for you.
 
How to Find us ?
Our manufacturing plants are located in Tonglu, Hangzhou which are only one hour by car from Hangzhou airport or railway station.
We are also only one hour by train from Shanghai or Ningbo, pickup and drop off at Hangzhou Air/Train stations are available if you are traveling to Hangzhou from other cities in China.
 
FAQ
1: How fast can I get a reply?
You will receive our reply within 15 minutes during our work time 08:00 - 18:00(UTC-8).
2: Can I get free samples?
Free samples are available at SDM warehouse. However it may take minimum 7 days for production if your size is not on our stock list.
3: Are you able to offer best prices?
Magnets are functional products, the costs depend on how strong the materials you need. We believe the most suitable is the best, therefore SDM is keen to offer best prices to meet your target.
4:Â Are you able to provide best quality?
At SDM you receive products under guarantee of ISO9001, ISO/TS16949 systems.
5:Â What are your best lead-times?
Immediately shipments are available for stock magnets. For fresh materials, we need 7-15 days for production.
6: How can you make sure that my money is safe with you?
As an Alibaba Trade Assurance member, your funds are under protection of Alibaba group. Payment will not be released to vendor until buyer confirms receipt and good material of delivery.
 
Sintered NdFeB Magnet

Grade

Residual Induction  (Br)

Coercive Force (Hcb)

Intrinsic Coercive Force (Hcj)

Max Energy Product (BH)max

Max Working Temp.

T

kGs

kA/m

kOe

kA/m

kOe

Kj/m³

MGOe

(°C)

N35

1.17-1.22

11.7-12.2

≥868

≥10.9

≥955

≥12

263-287

33-36

80

N38

1.22-1.25

12.2-12.5

≥899

≥11.3

≥955

≥12

287-310

36-39

80

N40

1.25-1.28

12.5-12.8

≥907

≥11.4

≥955

≥12

302-326

38-41

80

N42

1.28-1.32

12.8-13.2

≥915

≥11.5

≥955

≥12

318-342

40-43

80

N45

1.32-1.38

13.2-13.8

≥923

≥11.6

≥955

≥12

342-366

43-46

80

N48

1.38-1.42

13.8-14.2

≥923

≥11.6

≥955

≥12

366-390

46-49

80

N50

1.40-1.45

14.0-14.5

≥796

≥10

≥876

≥11

374-406

47-51

60

N52

1.43-1.48

14.3-14.8

≥796

≥10

≥876

≥11

390-422

49-53

60

N35M

1.17-1.22

11.7-12.2

≥868

≥10.9

≥1114

≥14

263-287

33-36

100

N38M

1.22-1.25

12.2-12.5

≥899

≥11.3

≥1114

≥14

287-310

36-39

100

N40M

1.25-1.28

12.5-12.8

≥923

≥11.6

≥1114

≥14

302-326

38-41

100

N42M

1.28-1.32

12.8-13.2

≥955

≥12

≥1114

≥14

318-342

40-43

100

N45M

1.32-1.38

13.2-13.8

≥955

≥12.5

≥1114

≥14

342-366

43-46

100

N48M

1.37-1.43

13.7-14.3

≥1027

≥12.9

≥1114

≥14

366-390

46-49

100

N50M

1.40-1.45

14.0-14.5

≥1033

≥13

≥1114

≥14

382-406

48-51

100

N35H

1.17-1.22

11.7-12.2

≥868

≥10.9

≥1353

≥17

263-287

33-36

120

N38H

1.22-1.25

12.2-12.5

≥899

≥11.3

≥1353

≥ 17

287-310

36-39

120

N40H

1.25-1.28

12.5-12.8

≥923

≥11.6

≥1353

≥17

302-326

38-41

120

N42H

1.28-1.32

12.8-13.2

≥955

≥12

≥1353

≥17

318-342

40-43

120

N45H

1.32-1.36

13.2-13.6

≥963

≥12.1

≥1353

≥ 17

326-358

43-46

120

N48H

1.37-1.43

13.7-14.3

≥995

≥12.5

≥1353

≥17

366-390

46-49

120

N35SH

1.17-1.22

11.7-12.2

≥876

≥11

≥1592

≥20

263-287

33-36

150

N38SH

1.22-1.25

12.2-12.5

≥907

≥11.4

≥1592

≥20

287-310

36-39

150

N40SH

1.25-1.28

12.5-12.8

≥939

≥11.8

≥1592

≥20

302-326

38-41

150

N42SH

1.28-1.32

12.8-13.2

≥987

≥12.4

≥1592

≥20

318-342

40-43

150

N45SH

1.32-1.38

13.2-13.8

≥1003

≥12.6

≥1592

≥20

342-366

43-46

150

N28UH

1.04-108

10.4-10.8

≥764

≥9.6

≥1990

≥25

207-231

26-29

180

N30UH

1.08-1.13

10.8-11.3

≥812

≥10.2

≥1990

≥25

223-247

28-31

180

N33UH

1.13-1.17

11.3-11.7

≥852

≥10.7

≥1990

≥25